How to choose the best cosmetic among a few having similar quality? Go over them with a fine-tooth comb! There are lots of questions surrounding world's most popular hairs oils, that is argan and coconut oils. Which oil to choose? Do they work the same on hair? Which one's better? Today, we are testing two excellent natural oils: Avril Coconut Oil and Nanoil Argan Oil. They both enjoy great popularity and have fine quality. Will coconut lose a fight against argan?
Avril Coconut Oil in a tube
We usually (wrongly) keep our heavy limp hair away from oil treatments. It's a myth that you shouldn't apply oil to this type of hair. All you must do is choose the right oil for your hair porosity. If your hair has low porosity, then coconut oil makes a perfect choice. It will not leave your hair weighed down; instead, it will lift the roots, intensify shine and give volume whereas its disinfecting and antiseptic effect will cleanse the scalp which tends to be oily in low-porosity hair.
Small particles of Avril Coconut Oil fit thick, easily-weighed down hair which has sealed cuticle layer. You will see unusual lightness and shine after just one application. It is one of the best coconut oils on the market as it's pure, unrefined and holds PETA (for cruelty-free products) and Ecocert certifications.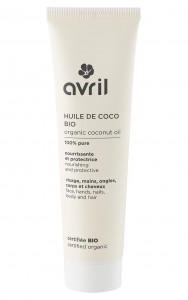 Avril Coconut Oil & good sides
We already know that coconut oil conditions low porosity hair. Is there anything else it's good for? Of course, it is! Check extra skills of Avril Coconut Oil:
It's suitable for the hygiene of oral cavity and is extremely effective thanks to not containing chemicals and synthetics contrary to toothpastes. Daily coconut oil tooth brushing routine improves the condition of gums and eliminates the plaque; coconut oil pulling after an evening tooth brushing routine is a natural way to whiten the teeth. Ideal for hair removal. Skin care is one of the most favorite fields of coconut oil's activity. However, it's best if you mix it with other (fluid) oils or butters because coconut oil is too thick when it hardens or too watery when you heat it up. Do you want to make the most of it? Grab a razor and use coconut oil to soften the hairs and nurture skin during hair removal.
Avril Coconut Oil & unpleasant sides
Avril Coconut Oil is a natural oil which has fine quality yet it isn't capable of protecting hair having medium or high porosity against catastrophe, that is turning into frizzy unruly flyaways. Tiny particles of the oil are fit for just one hair type: heavy, easily weighed down, greasy and limp hair. This limits its uses to just one type of hair.
Nanoil Argan Oil in a dropper vial, ideal for hair and skin
"Renaissance man" defines a multi-talented human being. Let's borrow the term and name argan oil the Renaissance oil: it is all-purpose and works perfect for all aspects, enhancing hair and skin (body, face, hands, feet, nails). Its versatility and brilliant effects together with top quality make it a beauty product with no flaws. Nanoil Argan Oil is a synthetic-free product, 100% pure and organic, unrefined and cold-pressed, therefore it keeps all of the most valuable ingredients and fatty acids which make argan oil so highly thought of. You can feel the fine quality right away after the first application. Hair is smooth, shiny, looks pretty, healthy and feels soft to touch. When you run fingers through your hair, they glide between the tresses; Nanoil is the best argan hair oil and you will feel that at once.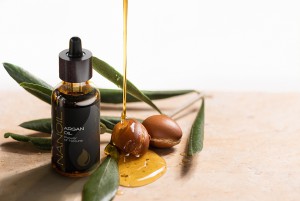 Nanoil Argan Oil & good sides
Nanoil Argan Oil suits all hair types, even low porosity hair if you apply it from time to time. Does it have any more benefits? Naturally! Perfect for body care, helps get rid of cellulite, reduces stretch marks, wonderfully smoothes out. It's a firming and repairing oil that rejuvenates the body. Nanoil is an ideal argan oil for use on face; apply it directly to face skin like nighttime serum or add to day or/and night moisturizer. Its antiaging effect will be a nice surprise for you. This oil keeps eye skin youthful longer and delays wrinkles. Amazing for skin on hands and feet. Nanoil Argan Oil keeps skin moisturized and relieves the driest feet. Add it to a relaxing-and-nourishing foot bath. Argan oil saves the most damaged nails, nourishes, strengthens and cures brittle, split nails.
Nanoil Argan Oil & unpleasant sides
Does this oil have any flaws? The unquestioned downside is that you can only get it at online store (nanoil.us/argan-oil). If your hair has low porosity, you'd better not apply it to strands too often: it's a bad side for some girls but a benefit for others (it holds out longer when used from time to time).